Bike routes in Mugello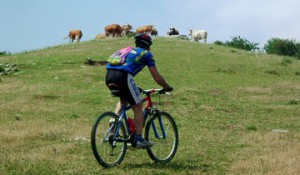 Are you a bicycle addict? Not far from Florence you can discover a territory composed by two geographic parts: the "Mugello" (with the villages of San Piero a Sieve, Barberino di Mugello, Scarperia, Borgo San Lorenzo, Vicchio and Dicomano) and "Alto Mugello" (with Firenzuola, Palazzuolo sul Senio and Marradi).
This big area, that lays down between Tuscany and Emilia Romagna, is the ideal destination for bikers of all levels: the association Senio Bike located in Palazzuolo sul Senio will give you the technical support and useful info about fascinating routes suitable for every kind of cyclist, from the novice to the more experienced. You have just to choose! Several mountain bike trails, a Down Hill track or a Freeride itinerary.
Why don't you come to ride up here?