Montaione recipes: once upon a time…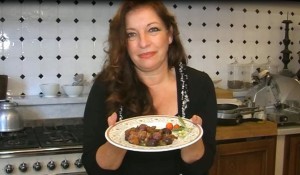 The history of Casa Masi Restaurant started in 1996 by Alessandro and Luciana Masi in their farm of San Benedetto in Montaione (Florence). Here you can experience the true tradition of the countryside also thanks to the many antiques objects that turned the place in a 'House-Museum'.
"My knowledge comes from the culinary experience of my grandmother, my mother-in-law and some old cooks I was fortunate to have as teachers at the beginning of my adventure: the lamb on artichokes, rabbit with olives and grapes, the pheasant with fennel, the chestnut polenta, the fricassee, the "inzimini" with meatballs, pancakes, panzanella … So many unusual recipes, blessing our existence. "
With these words Luciana presents her cooking, coming from ancient experiences, reconstruction of flavours and aromas that recall childhood, constantly looking for the freshest ingredients, the best offered by the territory.
Look at this video-recipe of his rabbit with olives and grapes!